We all know that running a successful Airbnb rental can be a time-consuming process, but luckily there are some great tools available to make it easier. Managing a listing, dealing with guests, and keeping everything safe & up to date can be a lot of work. So having the right tools in the ol' toolbox is a must.
Whether you're a seasoned veteran Airbnb host or a total newbie, there are some great Airbnb rental tools that can help you streamline the process and make managing your rental a breeze. And regardless of which of those two categories you fall into, the right instruments at your disposal can make all the difference in the world when it comes to the success of your Airbnb business.
Now, before you decide which tools you need, you should ask yourself three questions immediately, before you get into the intricacies of running your business.
What kind of rental are you running?

How much space do you have?

Do you need help managing payments or customer service?
When it comes to Airbnb rental tools, you want to make sure that you choose those that best fit your needs and lifestyle.

Another thing to consider when selecting Airbnb rental tools is scalability. The idea is that your Airbnb tools should grow with your rental business. Whether you only have one listing or a hundred, it's important that the tools you choose can help manage all your properties.
The right rental tools can also help protect both you and your guests. Security and privacy concerns are all too real (we are living in a highly litigious world) and having the right systems in place can help keep sensitive information safe and guest experiences positive…which is the end goal, after all.
When you have these aspects of your Airbnb business properly set up, the operation can become easy and pain-free. The right rental tools can vastly improve the rental experience for both you & your guests and ensure renting & managing a property is both quick and hassle-free.
With that said, going forward in this article, we'll be discussing nine essential Airbnb rental tools every host should have and why. We'll look at different tools that can help with the booking process, marketing, payments, customer service, security, & so on and so forth. Perhaps most importantly, we will learn how the right tools can free up your time—the most valuable asset we all have—and make your life as an Airbnb host a whole lot easier. So, if you're a host looking for the perfect tools to make managing your listing(s) a lot smoother, buckle up!
AirDNA

AirDNA is a must-have tool for Airbnb hosts. It's an AI-powered market intelligence platform that provides comprehensive data on the global vacation rental industry so hosts can make informed decisions on the price of their rental, optimize their marketing, and analyze the competition.
What makes AirDNA so useful is that it provides market insights to hosts with just the click of a button. It provides access to vast rental market data and enables users to compare their own rental data against competitor data in their market or in another region. AirDNA also serves as an all-in-one platform for Airbnb hosts to source information about a specific city or region, analyze home performance trends, evaluate short-term rental revenues, identify local competitors, and optimize pricing strategies based on seasonality and current market rates.
The platform accesses and runs an analysis of short-term rental data from more than 100 million global properties, providing hosts with a detailed understanding of the vacation rental marketplace. They can easily track market trends and compare their performance against the average nightly rate in their area. Easy peasy.
In addition, AirDNA also offers a range of features that help Airbnb hosts to optimize their performance. These features range from dynamic pricing recommendations to insights into the best time to list their property and make more money.
AirDNA can really revolutionize the way Airbnb hosts approach their rental business. With insights and data points tailored to their needs, they can make more well-informed decisions that can help increase their revenue, guest satisfaction, and much, much more.
Guesty
Guesty is an essential tool for Airbnb hosts who really want to take their hosting to the next level. Guesty is an all-in-one software system for managing listings, bookings, and guests. With features like automated messaging and listings syndication, it helps Airbnb hosts save time and streamlines their operations despite an ever-evolving rental landscape. 
One of Guesty's key benefits is its user-friendly interface. From one unified dashboard, Airbnb hosts can effortlessly keep track of their entire portfolio. With its powerful analytics, they can monitor performance across listings to identify trends and optimize their operations in response. Customizable filters, triggers, and automation rules also help hosts tweak their approach to suit their unique circumstances. Can you say "versatile?"
Another plus is Guesty's 24/7 support, ensuring that any of your technical questions can be answered in a very timely manner. The platform also includes pricing and discount management, allowing hosts to get creative and incentivize guests in ways that suit their intended outcomes. For larger properties with multiple units, Guesty's platforms give you the opportunity to create teams and collaborate with co-hosts, cleaning staff, and maintenance workers.
Guesty has a range of features that are tailored to meet the needs of the Airbnb host. From automated payments to comprehensive security measures and easy check-in/check-out processes, Guesty helps make running a rental business easier and more profitable in the long run. Whether you're managing one Airbnb property or a network of them, Guesty can give you the tools you need to stay ahead of the competition.
Hostaway
Hostaway is an all-in-one platform designed to make life easier for Airbnb hosts. It offers a variety of features to streamline daily operations, from guest management to marketing. When integrated with an Airbnb account, you can automatically sync reservations, prices, and availability. Hostaway also takes care of cleaning and laundry for you, and you can use the platform to communicate with guests, as well, which is a nice bonus.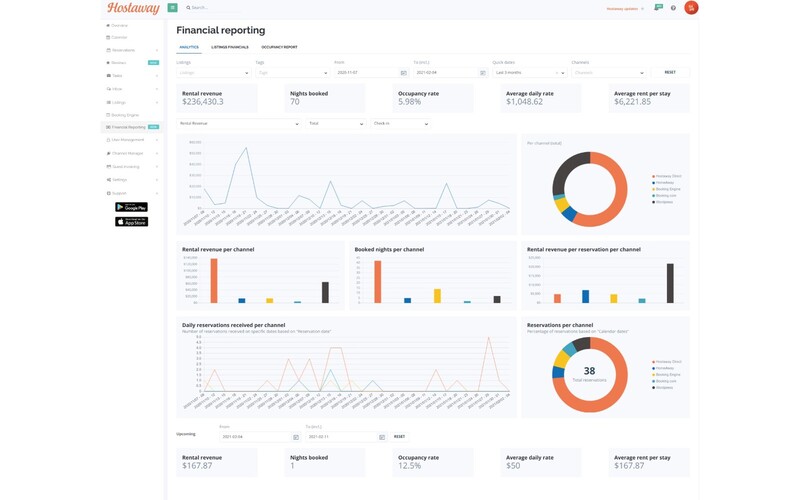 The platform offers unique marketing tools, too. You can reach out to potential guests on multiple sites using its listing sync feature, and use automated strategies to maximize occupancy. You can also create customized rate plans and discount packages. Plus, the platform's analytics dashboard will help you understand your booking performance and suggest ways to optimize operations in that arena.
For those looking for extra assistance with the day-to-day ops, Hostaway provides 24/7 personal assistance. You can outsource housekeeping, maintenance, and even concierge services. You'll also have access to dedicated account managers who can answer your questions and provide insights on how to maximize your earnings. 
Overall, Hostaway is an Airbnb rental tool that provides hosts with all the features they need to make their property stand out. It automates many of the tasks associated with property management and offers extra features to help you better understand how your property is performing while optimizing it to attract even more guests. The platform provides you with customizable rate plans, marketing assistance, and 24/7 assistance to aid you in running a successful Airbnb rental business.
iGMS
iGMS is a phenomenal rental tool for Airbnb hosts. This comprehensive, intuitive platform helps hosts save time and effort. With iGMS, hosts have access to all the tools they need to manage their rental properties in one place. 
From automated message templates to convenient channel management, iGMS' features provide hosts with ultimate control over their properties. Hosts can create automatic messages to apply to either one property or all of their properties at once. And with the ability to set up multiple channels, they can easily link all of their listings to the platform. 
But it doesn't stop there; iGMS' automated booking engine allows hosts to effectively manage their online reservations and never lose track of the bookings (which is incredibly helpful for busy hosts with multiple properties). This engine also helps reduce the possibility of errors, so hosts don't need to double-check each and every booking. 
Furthermore, with iGMS' smart pricing, hosts can understand their pricing profiles for all properties within a single dashboard. Their prices can be monitored, so hosts know if their prices are competitive or if adjustments should be made. Hosts have complete control and visibility into their pricing, which is essential for success. 
Finally, iGMS also gives hosts access to their calendar view, which shows the availability of their properties in an easy-to-view format. Hosts never need to worry about accidentally double-booking or making conflicting reservations. They simply check their calendar view to quickly answer questions from guests. 
To sum things up, iGMS saves hosts heaps of time and energy. With this rental tool, they have control, visibility, and convenience all rolled into one. It's truly an essential tool for Airbnb hosts.
Jervis Systems
Jervis Systems is a tool specifically designed to help Airbnb hosts manage their properties and maximize their Airbnb earnings. The app allows Airbnb hosts to have a comprehensive overview of their rentals and access to detailed reporting for every stay. Hosts can also communicate with their guests and send out automated messages with specific information related to each reservation. Additionally, Jervis Systems enables hosts to track and respond to reviews quickly (this is so clutch), helping to ensure a high-quality guest experience. 
The tool also integrates with several popular calendaring applications, making it easy for Airbnb hosts to conveniently keep their calendars up-to-date and manage multiple properties with ease. This can save hosts an enormous amount of time, stress, and headaches. 
As an added bonus, Jervis Systems also comes fully equipped with automated payment processing that simplifies the way users manage their payments. With this capability, users can easily keep track of payments, issue refunds, and make sure that their guests have everything they need to pay for their stay.
All in all, Jervis Systems provides a comprehensive suite of tools that can help Airbnb hosts manage their properties, communicate with their guests, and maximize their earnings. By leveraging the power of Jervis Systems, Airbnb hosts can rest easy knowing that they are staying one step ahead of their competition and are able to provide an above-and-beyond enjoyable guest experience.
Mashvisor
Mashvisor is a fantastic rental tool for Airbnb hosts. It is truly a comprehensive real estate platform that provides rental data, analytics, and AI-derived info. to help Airbnb hosts make the best decision possible when it comes to several aspects of their rental properties. It provides detailed information about housing markets, rental properties, and yields that can help hosts narrow down the best investment locations and find the most profitable rental properties.
Mashvisor's rental calculator also makes it easy for hosts to calculate rental income and get an accurate projection of what their return on investment (ROI) will be over time. It is a great instrument for forecasting demand & predicting future rental income, and it can be used to identify areas of opportunity for Airbnb hosts, too! The platform also offers neighborhood data, crime rates, traffic patterns, and more. All this to help hosts make an informed decision about handling/managing their rental properties.
In addition, Mashvisor helps hosts with marketing their rental properties. It allows them to compare their rental performance against competitors and create customized & targeted marketing campaigns for their rental listings. Hosts can also leverage Mashvisor's social media automation tool to spread the word about their listings and build their brand.
Mashvisor is a great tool to help Airbnb hosts find the best rental properties and maximize their profits. Whether it's finding the best location, calculating earnings and ROI, or marketing their rental property, Mashvisor has all the right tools to make Airbnb hosting easier and more profitable…simultaneously.
PriceLabs

PriceLabs is an integral tool for Airbnb hosts looking to maximize their rental earnings. With PriceLabs, hosts can easily set and manage their rental prices based on local market trends in order to optimize rental revenue. PriceLabs allows users to adjust their prices to hourly, daily, and even weekly rates. Also, PriceLabs' pricing engine analyzes data to identify the most profitable price ranges, making sure hosts get the best return on their investment while maintaining competitive prices.
The PriceLabs algorithm is both highly intuitive and efficient. PriceLabs takes into account things like local market trends, holidays, and availability in order to adjust pricing for maximum revenue. It even offers advanced analyses that can help hosts determine the optimal price for their rental over specific peak travel times, such as how to price during the summer vacation season or over the winter holidays.
Perhaps one of the greatest benefits of using PriceLabs is its automated revenue mgmt. tool. This provides hosts with full control, allowing them to set maximum revenue goals and then leave the rest to PriceLabs—boom! This helps to ensure that hosts maximize rental earnings while allowing them to still maintain focus on other aspects of their rockin' rental business.
PriceLabs is an important tool for Airbnb hosts looking to grow their business the right way and earn as much as possible while doing so. The intuitive system, automated revenue management, and advanced analyses all make PriceLabs a powerful tool that can help Airbnb hosts unlock the full potential of their rental earnings and set competitive prices in their local markets.
Transparent
If Airbnb hosting is your occupation of choice, you're going to need something to keep track of your income, especially for tax season. So, it's worth your time to check out Transparent, a tool specifically designed for Airbnb and vacation rental hosts.

Transparent has a range of features designed to help Airbnb hosts operate more smoothly, such as auto-generating invoices and creating & managing contracts. It also helps track your payment history and any deductions you've taken, making it easier to stay organized come tax season. Additionally, Transparent takes security seriously and allows you to protect your data since it's encrypted & securely stored in the cloud.

Transparent lets you track trends and analyze data over different periods of time, so you can really get to know your business and make informed decisions. The key is to use this information to optimize your rental and build better relationships with guests. You can also use Transparent's analytics to decide which areas you need to invest in. This means you can take advantage of the highest-earning seasons and determine when you need to market your rental better.
Transparent can help Airbnb hosts save time, stay organized, analyze their business performance, and even keep their data secured in the cloud. With all these features, Airbnb hosts can use Transparent to streamline their rental process and push to the limit of their fee intake.
Uplisting

Uplisting is one of the most important Airbnb rental tools for hosts out there. Believe it. This comprehensive software solution offers everything hosts need to manage their rentals, from automated messaging and 24/7 support to automatic price optimization, calendar integration, and more. Uplisting is designed to make the lives of Airbnb hosts much easier by allowing them to automate tasks like responding to guest inquiries & reviews, increasing occupancy rates, and optimizing pricing. It also helps hosts increase their profit margins by automatically updating their calendars and prices to take advantage of seasonal or promotional changes.
In addition to these automated features, Uplisting also helps Airbnb hosts advertise their rentals from all major channels. It creates a detailed listing page for each of your rentals, which can be used for listing your properties on multiple platforms. This makes it easier for potential guests to find and book your properties, helping you make more money in the long run.
Uplisting is certainly a much-needed Airbnb rental tool for hosts, as it provides all the features you need to make managing your properties easier and more profitable. The automated features allow you to save time and increase occupancy rates, while the advertising features ensure that your listings will reach as many people as possible. No matter if you're a rookie host or an experienced Airbnb landlord, Uplisting can help you make the most of your rental income.
Final Thoughts on Airbnb Tools
Congratulations! You've made it to the end of the journey. After reading this article, you now have a better understanding of the various Airbnb rental tools available to enhance your hosting experience. By having the right tools on hand at the right time, you'll be well-equipped to take on your Airbnb hosting duties with ease. 
The first step is to set up a system to streamline the basic processes, like creating an efficient platform to accept payments from guests and organizing communication with your guests. This will help you to better manage bookings, reservations, and other important aspects of Airbnb hosting. 
The next step is to arm yourself with useful tools to help you list and market your property. You can leverage features like automated responses and listings to make sure your property is presented in the best possible light. These tools will also help you establish a positive rapport with the guests who stay at your property. 
Finally, give yourself these tools to effectively manage reservations, payments, and other administrative tasks. This will help make sure your guests have a pleasant experience and that everything runs smoothly. Furthermore, it will help you not go insane by doing all this manually.
Ultimately, y'all, the whole process of being an Airbnb host can be overwhelming. But if you get all the right tools, you can easily manage your Airbnb rental in a stress-free and efficient manner. By taking full advantage of the tools available, you will be able to ensure that your guests have an enjoyable stay and that your property is always in the best possible condition. Good luck out there, squad!